This is an archived virtual workshop listing. Here you can read testimonials from the workshop's participants, view their resulting bags and learn more about the teacher.
Workshop 1- Mara Clutch / Shoulder Bag with Isabela Felix
Feb. 18-20, 2023
9am- 3:30pm PST

Please read ALL details before purchasing.
Skill level= Intermediate- What is your skill level?
Must have experience with assembling a PDF pattern, cutting out pieces accurately and basic sewing terminology. 
Machine Requirement= Flatbed or semi industrial such as  Janome HD9 
All supplies required are mentioned in the supplies list. Kits are available for purchase at thebagmakingacademy.com. 
Workshop participants qualify for a 15% discount - coupon code MARA15, which expires on 02/28/23.
About the project: 
The Mara Clutch and Shoulder Bag is a stylish handbag, with a soft yet structured body and a super cool reversible flap. This design gives you the perfect opportunity to showcase 2 different materials or 2 different colors.
The reversible flap features a cutout for the handle, making it possible to be worn as a strapless clutch. Additionally, it also has a removable shoulder length chain strap and can be worn as an elegant shoulder bag. 
 It closes with cleverly-installed, truly invisible magnets. The back has a sexy fully-lined slip pocket, made just how the professionals do it, by turning the edges. At 15" wide, it provides plenty of room for all your necessities, without feeling oversized. 
 The inside features a generous zipper pocket as well as a slip pocket with piping detail. The body of the bag features darts, to give it depth, without making it bulky.
 This handbag is the epitome of feminine chic. It is super versatile, and although it features lots of professional details, it is fairly simple to construct. It can be dressed up for a night out or down for everyday errands.
View Retreat Bags

Want to see the resulting bags made by the workshop's participants?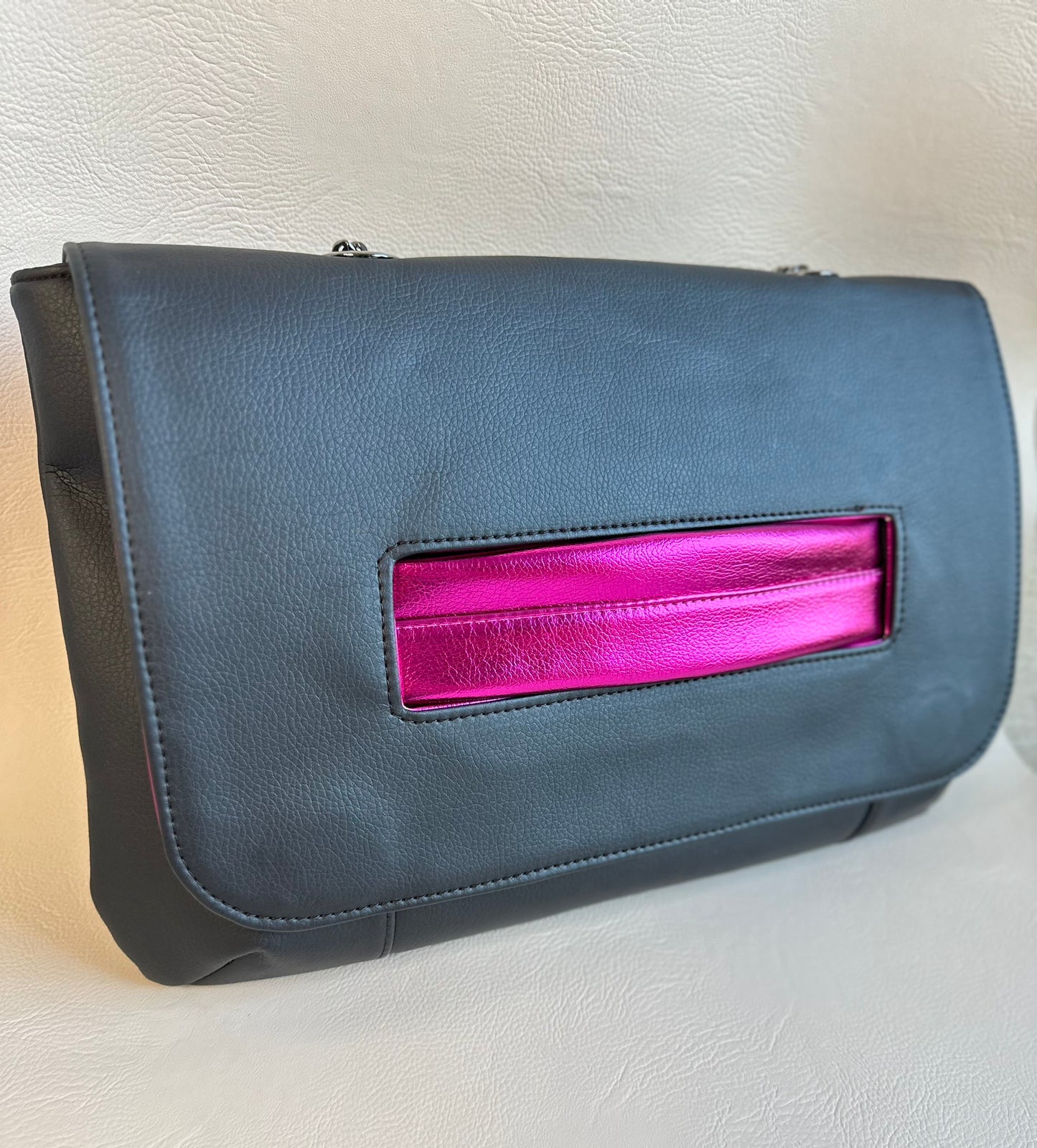 About The Teacher
I am the Founder and Pattern Designer behind The Bag Making Academy, an online shop and community for bag makers, where you find unique bag making materials, education, and resources.
I have been sewing since I was a child, but it wasn't until 2010 when I fell in love with the world of handbags and accessories. Back then there weren't too many courses and patterns for bags available, so I started designing my own patterns and learned a great deal through trial and error.
Since then I have attended design school and taken various courses in purse/accessory making, at colleges as well as from various Bag Making Experts and Artisans, in the US and around the world. I also owned a Sewing School and taught many bag making workshops (both in person and online).
Sadly, because of the pandemic I had to close my sewing school at the end of 2021. What could have been a very sad moment turned out to be my biggest catalyst; in the beginning of 2022, I released my first PDF pattern collection, the Fiori Collection, combining my passion for teaching and my extensive training in pattern drafting.
My patterns are designed to provide detailed, step-by-step information as well as tons of customization possibilities. I truly believe that anyone can achieve professional looking results, when given the proper training and the right materials.
Apart from designing patterns and selling bag making materials, I am a mom to 2 beautiful girls, who inspire and challenge me daily. Everything I do is for them, and because of them. You can find me on Facebook and Instagram, where I share about my day, and give you sneak peeks of what goes on behind the "seams."
Learn More